Cranked Up Film's upcoming thriller, Coyote Lake, follows a young daughter and her overbearing mother, who are running a makeshift motel out of their home when two drug runners arrive at their door after a deal gone wrong. The men hold the women hostage, not realizing a terrifying secret the women share.
The story that plays out is a dark one, and we wanted to know where the inspiration for this film came from. So, we went right to the source and spoke with writer-director Sara Seligman.
Seligman explained that after reading an article detailing an American man's mysterious disappearance on a Texas lake along the U.S.-Mexico border, she soon discovered that Falcon Lake, a seemingly quiet body of water along the Rio Grande, had in recent history become synonymous with drug deals, human trafficking and deadly cartel violence.

Seligman became fascinated by this territory on both Mexican and American soil where cartels skirt the law and seemingly have the upper hand, finding it horrifying on a personal level, yet equally inspiring as a thriller writer.
This no-man's-land inspired the gritty setting, events and mentality of Seligman's film, which stars Adriana Barraza (DRAG ME TO HELL, BABEL), Camila Mendes (RIVERDALE), Andrés Vélez and Manny Pérez.
Seligman always knew she wanted to tell a mother-daughter story about the unavoidable metaphoric "cutting of the umbilical cord", but by putting her characters in a dark setting with extreme circumstances as they discover their own truths, Coyote Lake instantly became a much more unsettling take on the typical coming-of-age story. Seligman's characters perform dark deeds, but the story remains grounded by the real-world stories emanating from Falcon Lake.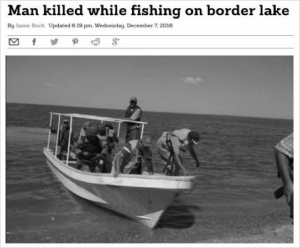 From mysterious disappearances, to violent deaths, to the discovery of abandoned drug loads, the news reports that continue to come out of Falcon Lake show that the dark events that play out in Seligman's thriller are far from fantastical, making Coyote Lake all the more visceral and chilling.
Stay tuned for more on Cranked Up's Coyote Lake, coming to audiences in 2019.
*Featured image originally featured on MyStatesman.com, credit Kelly West
*Article clippings originally featured on CNN.com and MySanAntonio.com respectively